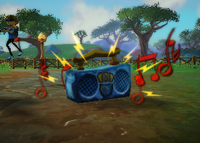 The Boombox XVD-S was the very first boombox Free Realms released. It has unlimited uses. It costs

150.
To use a boombox, click on About Me on your task bar. Then click on the Consumables button (it looks like a potion bottle).
You can then add a boombox to your Quick Item buttons. To do that, select which Quick Item button you want to assign it to (1-4) by clicking on the Quick Item # in the lower part of the windown. Then click on the boombox. It will be added to that Quick Item button.
Ad blocker interference detected!
Wikia is a free-to-use site that makes money from advertising. We have a modified experience for viewers using ad blockers

Wikia is not accessible if you've made further modifications. Remove the custom ad blocker rule(s) and the page will load as expected.