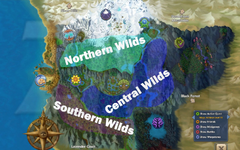 The Central Wilds is the central part of Sacred Grove.
The central sector of the Wilds includes, but is not necessarily limited to, the area in and around the following places:
Eastward across the waters and up into the mountains from Stillwater
Ad blocker interference detected!
Wikia is a free-to-use site that makes money from advertising. We have a modified experience for viewers using ad blockers

Wikia is not accessible if you've made further modifications. Remove the custom ad blocker rule(s) and the page will load as expected.