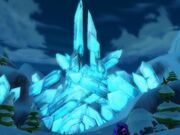 The Crystal Barrier is what sealed off the Elves from the other races during the binding. The barrier is believe to be the gate way to the other side of the mountains which is the Silver Hills. An elderly pixie, named Silversnow, waits in front of the barrier for the Crystal Barrier to open and to be reunited with the other elves.
Ad blocker interference detected!
Wikia is a free-to-use site that makes money from advertising. We have a modified experience for viewers using ad blockers

Wikia is not accessible if you've made further modifications. Remove the custom ad blocker rule(s) and the page will load as expected.