Farms
are lots in which you can plant crops. There are  two types of farms; 
The Wilds
 Farm (which is included free once you join) and 
Briarwood
 Farm (it must be bought in the SC Store). Although the seeds must be collected from a plant samples in the wild (VaultBerries must be bought in the SC store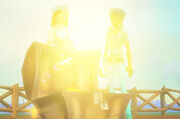 ) or certain "patches", for example a
Bumbleberry Patch
and the soil must be bought in the
coin
or
SC store
. Depending on what plant it is it will take some time. Inside the farm there is a Farmer's Market where the plants you grow can be traded in for a chance at certain clothes, plant packet illusion, or
coins
.There is also a vending machine that contains clothes like farmer hat,
Wilds Tractor
, Mega Growth Sprayer, and many more.  Another feature is that the rocks, boulders, trees, and weeds in the farm when removed can give a treasure. Additionally, the Farm-O-Matic is a machine on farms that can take two different seeds and combine them into a whole new type of seed that yields a crop that is a combination of the original seeds.
Ad blocker interference detected!
Wikia is a free-to-use site that makes money from advertising. We have a modified experience for viewers using ad blockers

Wikia is not accessible if you've made further modifications. Remove the custom ad blocker rule(s) and the page will load as expected.