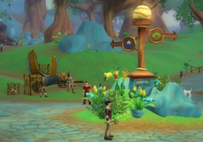 Highroad Junction is a small town in the Wilds North, south of Snowhill. Players now start from the Cobblestone Village upon first arrival.
Points of Interest 
Edit
Highroad Junction 

Adoption Center
Bear Cave
Dance Party
Highroad Junction Tavern
Job Trainers
Edit
Mercy Merrywings Pet Trainer
Veril Shiverwings Pet Trainer
Auguste Frydaze (Chef Trainer)
Harold (Brawler Trainer)
Potions (health, energy, replenishing)
Pet Collars
Pet Supplies
Local Dungeons
Edit
Resources
Edit
Collections
Edit
See Also
Edit
Ad blocker interference detected!
Wikia is a free-to-use site that makes money from advertising. We have a modified experience for viewers using ad blockers

Wikia is not accessible if you've made further modifications. Remove the custom ad blocker rule(s) and the page will load as expected.