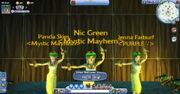 Mystic Mayhem is a popular, well known guild founded by Darian Spirithorn, Stephanie (Steffy) Rabbitheart, Zadira Kindleriver and Tye Swordprince. Darian and Tye have retired from the guild as of Summer 2013.
Mystic Mayhem has been recognized as one of the most influential guilds in Free Realms. Members who belong to their site host hundreds of events each year, as well as the staff members. An event to note would be M.o.M, or Marathon of Mayhem (Which was the event they hosted back over in insiders, only titled as The Legends of the Realms).
It has become very popular in its past fews years of operating, and has even had the endorsement of SOE and Free Realms[1].
It's site(created by Darian Spirthorn) was previously hosted by Proboards but as of April 24th Mystic Mayhem is now of a new site and has separated from Proboards, now hosted by phpBB forum software. The site is now called Legends of Mayhem, but the guild name remains the same. Zadira Kindleriver and Reid Graycloak have been credited with the creation of the new site. The new site has nearly 1,000 members. Due to the sunset of Free Realms, they have changed their application. You must state your In-Game name and tell your favorite memory in Free Realms.
Even though Free Realms has shut down, the site is still strong and still has members joining the community.The site, previously named Free Realms Mayhem, is now called Legends of Mayhem, due to the support of other games including Villager's and Heroes, Everquest Landmark, Wizard101, and Minecraft. The Free Realms portion of the site is still there, for historical sake. Legends of Mayhem is always welcoming newcomers, no matter what game they play.
The guild <Mystic Mayhem> can be seen in various games. Former <MM> members and staff have recreated the guild into Villager's and Heroes, a family-friendly game. The <MM> guild in Villager's and Heroes still stays strong with members of the guild logging in daily.
References
Edit
External Links
Edit