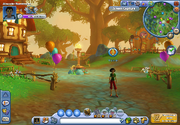 Stillwater Crossing is a small town located south-east of Sanctuary, north-east of Blackspore. Like the town of Lakeshore situated directly north of it, it is mainly a fishing town.
Job Trainers
Edit
Pet Collars
Pet Supplies
Potions (health, energy, replenishing)
Local Dungeons
Edit
Resources
Edit
Sacred Grove Shallows (fishing)
Checkers & Chess
Collections
Edit
See Also
Edit
Ad blocker interference detected!
Wikia is a free-to-use site that makes money from advertising. We have a modified experience for viewers using ad blockers

Wikia is not accessible if you've made further modifications. Remove the custom ad blocker rule(s) and the page will load as expected.