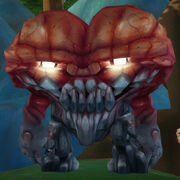 Stone Heart
is an
enemy
NPC
Boss
that appears in
Merry Vale
during the time of
Festival of Hearts
Events.
During the time that Stone Heart is summoned, Love Potions appear on the pathways of Merry Vale. The Love Potions temporarily grant players an enchanted bow with the ability to attack Stone Heart and stop the Heart Breakers from stealing Valentine Love.
Stone Heart's main goal while summoned is to destroy the Love Potions. He will slowly walk along the pathways of Merry Vale giving players time to confront the boss. Once defeated, Stone Heart drops a special Treasure Chest that rewards the players that assisted in that specific battle a Festival of Hearts themed item.
Boss Cake
Edit
Stone Heart is included in the Birthday Bash Station Cash Marketplace item named the Boss Cake. The Boss Cake grants players an illusion to appear as a Free Realms Boss.